Our Import Products Tool offers an efficient and user-friendly way to streamline the process of creating new or updating existing products in bulk to your BigCommerce store.
The Import Products Tool does not support updating variants. To update variants, use our Variant Updater tool.
---
Article Contents
This support article contains several sections which can be accessed quickly by clicking the appropriate link below:
---
Importing Your Products to Your Store Tools
Drag and drop, or, use the Browse link to select the .CSV file from your computer. The file you are importing must have a header row with column names that you can map to the appropriate fields in BigCommerce in the next step.
If you are updating products that already exist in your store, we recommend using the Export Products tool to download your store's products, edit them offline, and upload them back to your store using this tool.
The item's unique SKU is required for existing items in order for the item to be updated.
If your .CSV file contains a SKU that does not exist in BigCommerce, you can opt to have a new item created automatically. If this option is toggled on, it is important to note that:
Product Type will automatically be set to "physical"
Weight will automatically be set to "0"
Please make sure the file you're attempting to import is a .csv file.
Once selected, click Next.
Map the columns in your .CSV file to the appropriate fields in your store by using the drop-downs.  
Once complete, click Next.
By default, Your Store Tools will email you when your import is complete. If you choose to receive this notification, verify your email address is correct before clicking Submit. You will also receive a notification in the Your Store Tools Notification Center, which is the "bell" in the upper right corner.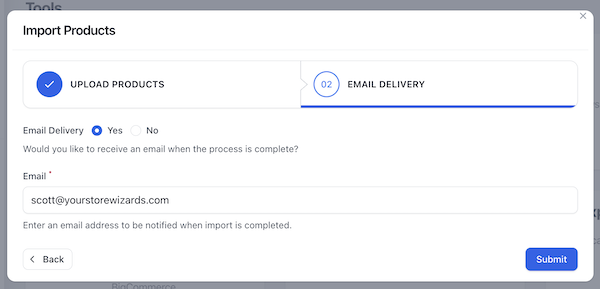 ---
Supported Fields
The following BigCommerce fields are supported by this tool:
SKU
Manufacturers Part Number (MPN)
UPC (Product UPC/EAN)
GTIN (Global Trade Identification Number)
Price (Default Price)
Tax Class
Cost Price
Retail Price (MSRP)
Sale Price
Product Tax Code (Tax Provider Tax Code)
Inventory Tracking
Inventory Level (Stock)
Inventory Warning Level (Low Stock)
Is Featured
Search Keywords
Sort Order
Layout File (Template Layout File)
Warranty
Availability Description (Availability Text)
Condition
Is Condition Shown (Show Condition on Storefront)
Related Products (Show Related Products on Storefront)
Width
Height
Depth
Fixed Cost Shipping Price (Fixed Shipping Price)
Is Free Shipping
Purchasability (available, unavailable, preorder)
Preorder Message
Preorder Release Date
Remove Pre-Order Status on This Date
Show "Call for Pricing" Message Instead of Price
Call for Pricing Label
Minimum Purchase Quantity
Maximum Purchase Quantity
Page Title
URL (Product URL)
Meta Description
MAP Price
Calculated Price
Review Rating Summary
Reviews Count
Meta Keywords
Is Visible
Product Name
Product Type
Price
Brand
Brand ID (numerical value for Brand ID)
Weight
Categories (numerical value for Category ID)
Description
Product Image ID 1
Product Image File 1
Product Image Alt 1
Product Image ID 2
Product Image File 2
Product Image Alt 2
Product Image ID 3
Product Image File 3
Product Image Alt 3
Product Image ID 4
Product Image File 4
Product Image Alt 4
Product Image ID 5
Product Image File 5
Product Image Alt 5
---
Additional Tool Features
To view the history of this tool's use, click the hamburger menu in the upper right corner of the tool's tile and select History.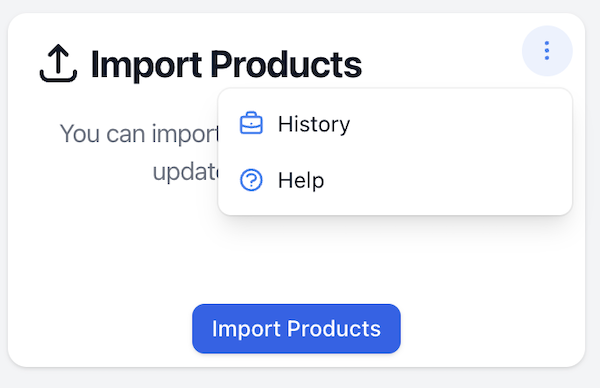 This quick view allows you to:
See whether the job was completed or not
Process start and end time
Retry a specific job that failed
You can also filter results by job status.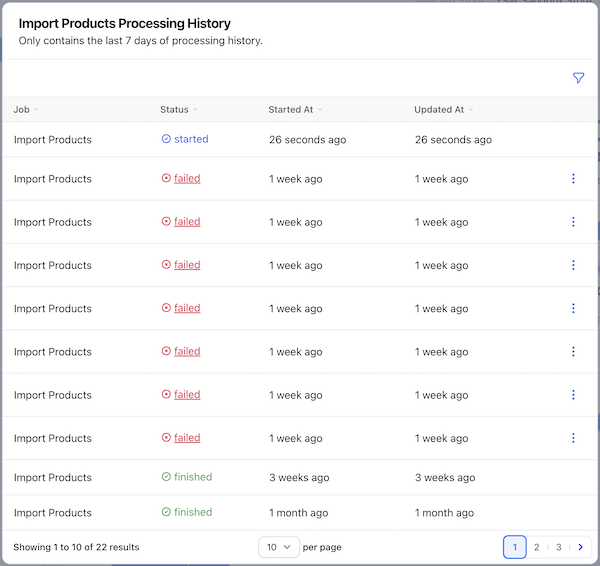 If any errors are encountered during the import process, you will receive a notification as well as a .csv file to download which explains what went wrong. The items that errored are not imported, so you will need to fix and import those items separately.
---
Available Support Videos
---
Did you find an error or need additional support? Contact us at support@yourstorewizards.com to let us know!