This Export Categories Tool provides store owners with the capability to export their store's categories seamlessly. By generating either a CSV or a Microsoft Excel file, users can conveniently make edits offline. This feature not only ensures flexibility in how they manage their categories but also offers an efficient way to perform bulk edits without the need for an online interface.
---
Article Contents
This support article contains several sections which can be accessed quickly by clicking the appropriate link below:
---
Export Categories from BigCommerce
To export categories from your BigCommerce store, first choose the categories you want to export. There are a few options you can choose from:
Category Keyword: If you'd like to only export categories that contain a specific keyword, enter the keyword here, otherwise leave it blank.
Select Categories: If you'd like to only export select categories, rather than all, use the drop-down to select which categories to export. Leave blank to export all.
Select Parent Categories: If you'd like to export select parent categories, rather than all, use the drop-down to select which parent categories to export. Leave blank to export all.
Category Visibility: You can choose whether to export All Categories, only those that are Visible, or only those categories that are Hidden.
If you choose none of the options above, all categories will be exported.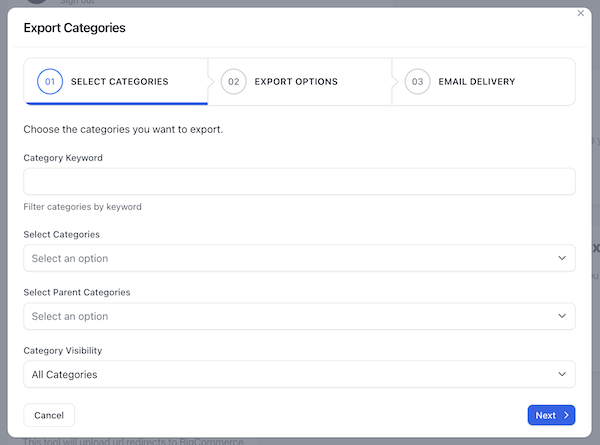 Click Next.
The Export Options screen allows you to choose different options for your export file:
If you'd like to enter a custom name for your download file, you may enter it in the Filename box or leave as is.
Choose the File Format for your download. Available options are .csv and Microsoft Excel.
Now select which fields you would like to include as part of the export. By default, all options are selected. Simply unselect the ones you do not want to include, then click Next.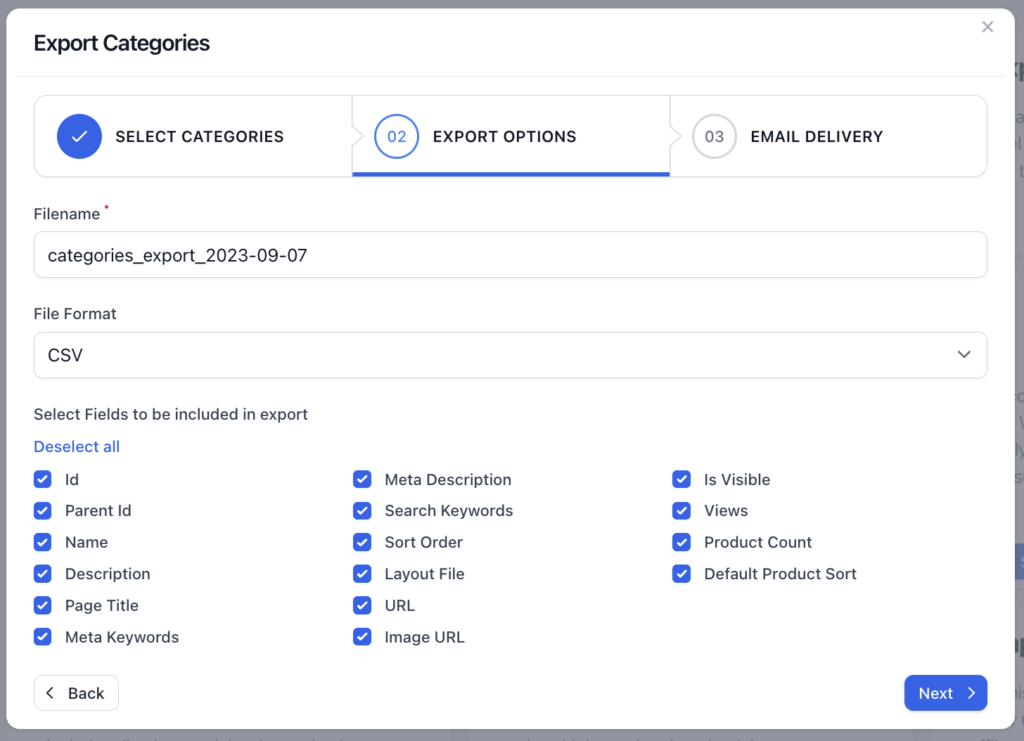 By default, Your Store Tools will email you when your export is complete. If you choose to receive this notification, verify your email address is correct before clicking Submit.
If you do not want to receive an email notification, simply click the No box followed by Submit.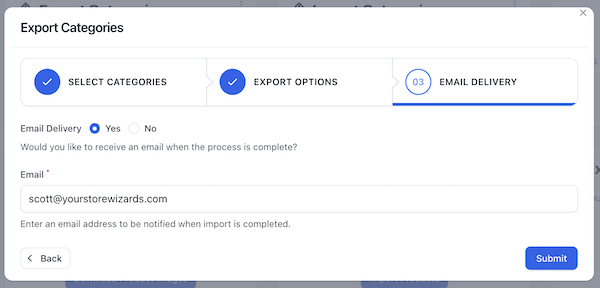 Once your file is ready for download, you will receive a notification either by email or in the Your Store Tools Notification Center, which is the "bell" in the upper right corner.
The notification will provide you with a link to download your file.
---
Supported Fields
The following BigCommerce fields are supported by this tool and can be used as field names in your import file template:
parent_id
name
description
page_title
meta_keywords
meta_description
search_keywords
sort_order
layout_file
url
image_url
is_visible
default_product_sort
views
product_count
---
Additional Tool Features
To view the history of this tool's use, click the hamburger menu in the upper right corner of the tool's tile and select History.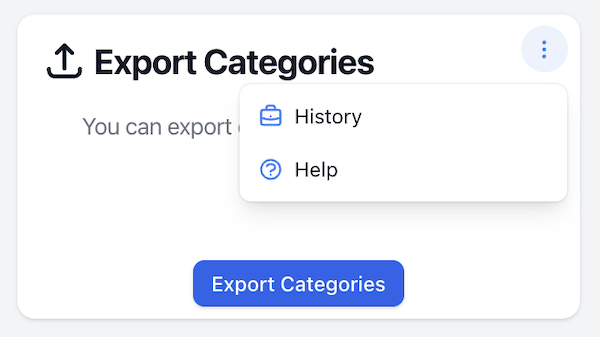 This quick view allows you to:
See whether the job was successfully completed or not
Process start and end time
Retry a specific job that failed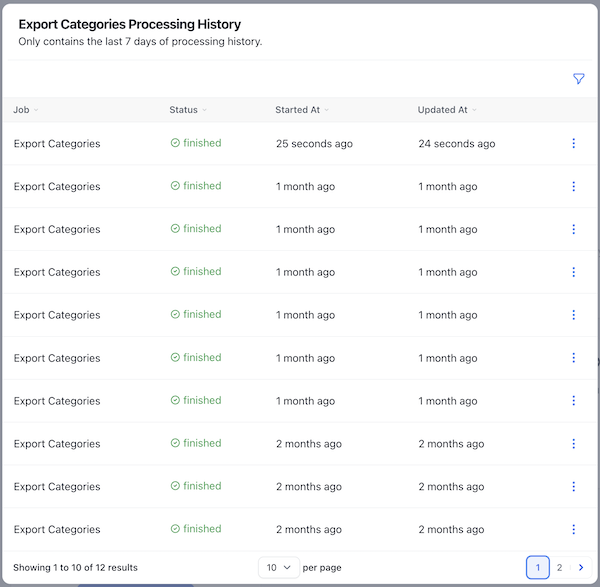 You can also filter results by job status.
---
Available Support Videos
---
Did you find an error or need additional support? Contact us at support@yourstorewizards.com to let us know!